About Rita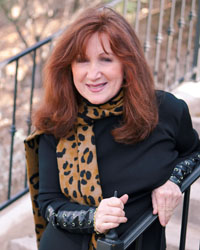 Celebrated Italian cooking school instructor and acclaimed author of Sauces for Pasta Lovers and Main Courses from Italy is now cooking up her third gastronomical project!
Born in Bari, Italy on the east side of the "boot," Rita is the youngest of twelve children born into a family with a deep appreciation for the culinary arts. With six older sisters competing in the kitchen, the outcome was always a delight for the taste buds. She also lived in both Naples and La Spezia (near Genoa), where she developed an appreciation for the abundance of foods found in these diverse regions.
The budding young food fan came to the United States at the age of eleven, immigrating to Philadelphia with her parents and five of her siblings. After the Romano roots were firmly re-planted in the US, Rita learned about American food starting out in the food department of an airline. Upgrading to a position of supervisor for Alitalia Airlines offered Rita the opportunity to travel back and forth between the US and Europe, she aspecially enjoyed the frequent visits home to Italy. Experiencing the culinary diversity of these two worlds further fueled her passion for food.
Several of Rita's siblings had relocated to Phoenix, Arizona and her strong sense of family ties drew her there in the early 80's. Maintaining an executive position in the airline industry, afforded her frequent travel opportunities to Italy. She continued to expand and spread her culinary wings. Rita's proficiency at creating amazing culinary marvels continued to grow.
In 1990 Rita opened and operated three Italian restaurants in the Phoenix and Scottsdale area specializing in pasta. Her restaurants offered 31 delicious sauces for pasta that the enthusiastic Italian chef had developed. Encouraged by the ardent fervor of her customers to share her recipes - as well as her knowledge and skill of Italian food, Rita began writing cookbooks.
Within two years, Rita had published her first cookbook and started her Italian cooking school. She has been featured in the Arizona Republic, Arizona Woman magazine, the Moon Valley Phoenix Advent, and Camelback Corridor News. Rita's Cooking Class has been featured on Many local and network TV stations.
Now, together with haute couture designer and fellow "foodie" Kimberley Ashley, Rita is co-authoring a new cookbook with an amusing title derived from the question she always asks her friends when they visit: Did You Eat? In addition, she is busy creating a series of cookbooks on appetizers, side dishes, desserts, liqueurs, and more.
Romano and Ashley's book, Did You Eat? Fabulous, Fun, Simple and Fresh; Italian Food at Its Best, will be available this fall.